So What Exactly IS A Snap Frame?
Snap Frames' unique front load design saves businesses time and money! Keeping ads and messaging current requires display fixtures designed for fast — and easy — graphics swap-outs. Our economical snap frames are the easiest and most efficient choice for high visibility advertising that grabs customers in any environment.
What makes poster holders like these an ideal choice for displaying graphics?
Snap picture frames feature a unique design that makes it easy to insert new prints. Each showcase features one or more (usually four) hinged sides that open and close with a "snap".
The front-loading construction means that the holder can remain mounted on a wall during the graphic changing process. This saves staff time and effort, especially for larger frames installed in high traffic public areas.
Outdoor-rated clip frames are made of strong aluminum, making them a durable option. These holders can safely be used outside due to their unique weather-proof rubber gasket design.
Frames with snap technology can be found on a number of displays from wall mounts and sign stands to hanging banner rails and even literature dispensers.
Shop Our Top Snap Frames
Outdoor: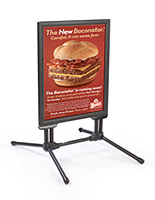 22 x 28 Outdoor Sidewalk Sign for Posters, Snap Open, 2 Sided, Rubber Gasket - Black
$133.92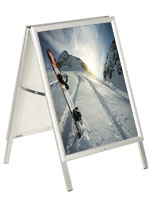 22 x 28 Sidewalk Sign for Posters, Hinged Edges, Double Sided - Silver
$177.99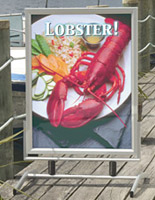 30 x 40 Sidewalk Sign for Posters, Snap Open, 2 Sided, Spring Base, Outdoor - Silver
$325.09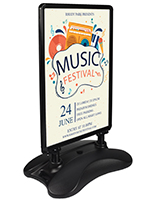 24 x 36 Sidewalk Sign for Posters, Double Sided, Water-fill Base with Springs - Black
$288.99
Frames with a Snap-Open Design for Ease of Use
Not all clip frames are made to be wall mounted. In fact, we offer a large selection of snapping poster holders that are displayed in a number of other ways. Free standing displays can showcase prints at an angle, making them great for advertising menus or directional information. Others feature a vertical display that can hold up to (4) separate images, or one large graphic. Floor stands with shelving for dispensing or selling literature. A-frames for sidewalks and hallways are also available with a number of options such as: customizable headers, wind absorbing springs and a fillable weighted base.
Banner rails feature a similar design to snap frames because they securely clip open and shut. These systems hang from a wall or ceiling and only have a width measurement, allowing them to display graphics of any length. We offer strong hanging kits with chains or nylon lines for installing these versatile fixtures.
What options are available with these graphic displays?
Finish: Poster snap frames are made with a neutral finish. Each model either comes in a black or silver finish for matching any environment and meshing with any print. A few feature a faux wood appearance for a more traditional look.
Wayfinding Signs: While most snap frames feature four opening sides, smaller office signage features a unique construction with two aluminum bars. These units can be mounted to walls with screws, but smaller models also come with adhesive strips that accommodate their lightweight fabrication.
Outdoor Protection: Sign displays can come with a weatherproof case that allows them to withstand inclement weather. These have a rust-resistant construction and a polycarbonate or Lexan lens for protecting their contents.
Locking Enclosure: Some holders come with a secure lock that protects images from tampering. These either use an Allen wrench or a key to prevent unwanted access. This type of framing is a great choice for users who want to advertise in high traffic areas.
Illumination: Wall mounts, stands and hangers all come with lighting options for making banners stand out. Advertisers can use these lightboxes to promote their message at any time of day or in any establishment. Options include LED or T5 fluorescent lighting for different display needs.
Snap frames are available in an assortment of sizes. They can be as small as 4" x 6" and as large as 50' x 50', making them excellent for any graphic, from small signs to billboards. One feature that is shared by all clip frames is that they can be mounted in either horizontally or vertically. This means that any 18" x 24" fixture can easily measure 24" x 18", allowing advertisers more freedom with their images. This can be achieved by simply mounting or placing the holder in the desired orientation, no special setup required! Another trait shared by most snap frames is their thin depth, which ranges between 0.5" and 0.75" on most models. Outdoor displays measuring 4' x 6' or larger will only stand out 1.3" from a wall, making them ideal for alleys and throughways.