Snap Poster Stands with & without Pockets
---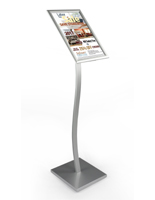 Snap Poster Stands - Floor-Standing Business Signage
Does your organization depend on large-format advertising to boost sales? These snap poster stands are the best marketing solutions for promoting events, goods, and services in large-scale venues like airports and movie theaters. This website offers a vast array of constructions, styles, finishes, and pocket configurations for promotional signs. An array of sizes compatible with any type of retail or business space, from a small salon, to a convention center with these standalone snap poster stands. These mounts are available in four separate sizing categories: 14 x 22; 18 x 24 & 22 x 28; 22 x 56 & larger; and a-frame/sidewalk sign fixtures. Place these snap poster stands, also known as promotional displays, in malls, auto dealerships, real estate or professional firms, bus and train stations, museums, trade show booths, bank lobbies, hotel foyers, and mall boutiques. Browse this e-catalog for eye-catching signage with pocket options that underscores company brand and provides customer take-aways.
How many designs do these floor-standing snap poster stands come in? There are a myriad of signs to choose from, with striking features, durable construction, and a myriad of graphic/pocket combinations for take-aways. Select a straight or curved European style poles our FORTE & BRAVA line. Super-tall fixtures up to 73" attract the attention of prospective clients from afar. Easy-loading aluminum snap frames anchor to a round, square, or rectangular base or pedestal. Some standalone models are double-sided for twice the advertising potential, while smaller venues may require single-sided presentations. A specialty model has a touch-free hand sanitizer attachment! Choose a sign system with rounded corners, steel spring connectors, or rustproof technopolymer steel support or fill the plastic base with water, rock salt, or sand for stability. Some a-frame styles have a sealed foam gasket in the enclosure to keep water and dampness out (please read specific product instructions as certain models can be used outdoors and others may not). Some floor-standing supplies have built-in caster wheels and a handle for portability.
Purchase 5" 390 changeable letters, numbers, and symbols and two printed "SALE" and "SPECIAL" headers separately for some of the models. Markers are bought separately for wet-erase, write-on framing. A floor-standing aluminum snap frame with a pamphlet holder, or quick-clip frame, allows "take one" collaterals to go home with customers, keeping the connection! These standalone supplies with tilting and swiveling features can be used as menu stations outside a café, or wayfinding signs in a corporate office. Finishes include matte and satin silver, shiny chrome, polished or black matte, and durable scratch-resistant powder coating. Other displays feature embossed laminate base panels, and diamond plated or square panels. Systems are made of steel, plastic, wood, or laminated MDF aluminum. Many stands are weighted metal to avoid tipping in wind outside. Details such as rubber footing prevent slippage while keeping floors scratch-free. A few of the models feature edge lit LED illumination that provides long-lasting, low voltage lighting. Stands with acrylic dividers and adjustable pegs in a multitude of configurations reinforce brand messaging two ways. Some of these snap poster displays have wall screws for another mounting alternative. Many of these supplies have a clear plastic, no-glare lens made of water resistant PVC for clear views of graphics and protection. Most units mount in portrait or landscape orientation, and are shipped disassembled to save on shipping. Putting these fixtures together in less than a minute is easy with the included tools!