Snap Frames | Wholesale Wall Mount, Hanging & Freestanding Poster Holders For Sale
Snap Frames - Fast Change Poster Enclosures, Hanging Rails & Stands
Did you know that snap frames are one of the most versatile — and affordable — framing options available for photos, posters or signage? The efficient front loading design is intended to make changing graphics a fast, easy process. In addition, plastic and aluminum snap frames are lightweight and lend themselves easily to placement in almost every type of mount. From cheap countertop stands and economical hanging banner rails to basic spring-loaded poster wall mounts to outdoor-rated locking enclosures and freestanding plinth-style sign totems with LED backlighting, fast change enclosures exist to meet display needs in retail, hospitality, commercial and professional environments. Our wholesale snap frame selection, also known as quick clip poster holders, encompasses the full variety of styles, finishes, mounting options and more. Our massive in stock inventory allows almost every order to ship out the same day as it is placed (when ordered before 2pm EST), as well as to allow us to offer cheap wholesaler pricing.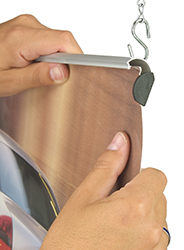 What types of quick clip poster holders are available?
Wall & Countertop Snap Frames:

Fast change enclosures for wall mounting are one of the most ubiquitous framing styles available. Ranging from simple and cheap clip frames to secure spring-loaded borders with protective polycarbonate lenses for high traffic marketing messaging, this type of fixture can be used on desks, tables or counters and easily mounted on walls or other vertical surfaces. Inexpensive aluminum or plastic construction is ideal for bulk or wholesale purchases. Wall and countertop usage can Include:
Retail Signage
Theater and General Advertising Signs
Corporate Communications Displays
Decorative Residential or Office Graphics Framing

Hanging Quick Clip Poster Holders:

Overhead mounted sign styles vary widely, from simple aluminum banner rails to eye-catching LED-backlit window displays. This type of frame is particularly well-suited to commercial advertising purposes, as even the most inexpensive framing has a sleek, modern look. Fast-change designs are ideal for messaging or graphics that need to be changed often without the need for un-mounting the displays. Economical hanging quick clip poster holders are a superior choice for:
Wayfinding Signs
In-Store Merchandise Marketing
Service or Product Advertisements
Event Signage

Freestanding Snap Open Graphics Displays:

Sturdy floor stands are ideal ways to present customers or passersby with information, advertisements and marketing messaging in high traffic areas. Available for either indoor or outdoor use, freestanding snap open graphics displays are available as simple poster frames, LED-illuminated advertisement holders or as multi-channel marketing fixtures that incorporate enclosures for both artwork and take-away literature. Durable metal framing allows this type of stand to withstand heavy use while presenting contents in a modern, stylish fashion. Floor standing fixtures offer high visibility, making them very well suited to use as:
Restaurant Menu Holders
Information or Wayfinding Kiosks
Concourse or Lobby Advertising Stands
Secure Exterior Information or Marketing Displays
Fast-change framing styles have one thing in common: flip-open or spring-loaded graphics enclosures are designed to make it easy for users to swap pictures, posters or advertisements with minimal effort. Economical construction materials such as aluminum, polycarbonate plastic and acrylic make even the largest display stands eminently well-suited to wholesale, bulk purchase to create stylish, consistent framing in commercial, hospitality and professional environments ranging from a single location to multi-site national installations. Ranging from simple banner rails to backlit dual-sided LED totems, fast-change framing is designed with ease of use in mind, making this type of advertising display the perfect choice for businesses or organizations in any industry.
Looking for a specific design or model? Use our parametric or text search functions, or browse our handy site directory.